DialTrixPhone - Windows 8 Downloads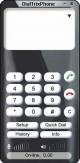 Make cheap international VoIP phone calls.
DialTrix's Free VoIP Softphone allows you to make very cheap domestic or international PC-to-Phone calls.
DialTrixPhone 2.4.476 - Key details
Windows 8

Downloads - DialTrixPhone awards
DialTrixPhone - Full description
DialTrix's Free VoIP Softphone allows you to make very cheap domestic or international PC-to-Phone calls. With the VoIP technology on our side, and following simple steps to start calling, our softphone for windows can be a good solutions for residential and business communications' needs.
DialTrixPhone for Windows 8 - Post your review
DialTrixPhone Windows 8 related downloads
Website provides chat website application to solve business customer arguments and ... product offers and provided services. Affordable online website chat software provides best facility for customer help executives ...
Comprehensive Chat Websites software proves itself is the most demanding ... feedback in minimum spam of time. Non destructive Chat Website program offer business users to quickly solve ...
Chat.io is the best live chat software combined with chat platform. It helps online businesses to interact with ... more accessible to them. Whenever a client using chat.io has a question, a single click is all ...
Amolto Call Recorder is a new tool for recording your ... records in high-quality video and audio format. Amolto Call Recorder is the best tool for recording your ...
... console allows you to monitor your website for chat requests 24/7 from any location, from any system ... features visitor monitoring with geographic location identification, proactive chat, operator-to-operator chats, and automatic chat transcript emailing. Very ...
Noraa Chat is a chat application that allows you to chat with other users around you that are on your Local Area Network ONLY. The chat program checks for updates automatically so there is ...
... files supported) - Instant Text Messaging and Video Chat - ( IM >> Instant Messaging ) - Interactive Features: Video, window flashing when user calls and play sound when being called No Java ...
This is a Facebook chat plugin for Pidgin and libpurple messengers. It connects to the new Facebook Chat IM service without the need for an API ...
Web Chat utility helps to communicate with website visitors to ... online support in real time manner. Reliable web chat software provides excellent chat facility with customers to ...
Mioot Live Chat software is an expert in Help Desk Software solutions Offering Live Chat Support services since 2003. With Our Help Desk ...
Saved Downloads
You have not saved any software.
Click "Save" next to each software.
Would you like to receive announcements of new versions of your software by email or by RSS reader?
FREE Registration Here!