Collectibles Organizer Deluxe screenshot - Windows 8 Downloads
Collectibles Organizer Deluxe full Windows 8 screenshot
Organize and manage your collectibles.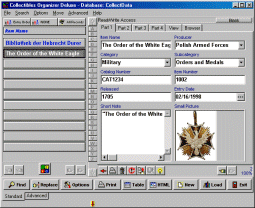 Collectibles Organizer Deluxe Windows 8 description
Complete program that will help you organize all your collections. ORGANIZER DELUXE brings together flexible data inventory features: Search, Replace, Sort, Table / Browser Viewers, Report / Label Wizards, HTML Generator Wizard, Backup, Scanner Support, Full Customization. DESIGNER DELUXE (included) allows you to easily create your customized collectibles organizers.